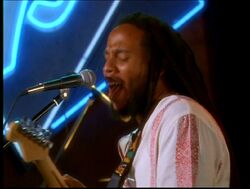 Ziggy Marley (born 17 October 1968) is a Jamaican musician and leader of the band, Ziggy Marley and the Melody Makers. He is the oldest son of Rita Marley and reggae legend Bob Marley. He performed his hit song "Rainbow in the Sky" at P3 in the season 6 episode "The Legend of Sleepy Halliwell".
External Links
Edit
Ad blocker interference detected!
Wikia is a free-to-use site that makes money from advertising. We have a modified experience for viewers using ad blockers

Wikia is not accessible if you've made further modifications. Remove the custom ad blocker rule(s) and the page will load as expected.