Where There's Smoke There's a Firestarter is the 15th issue of the Charmed comic series published by Zenescope Entertainment.
For a complete plot of Where There's Smoke There's a Firestarter, go

here

.
Trouble comes knocking on Paige's front door when a mysterious fire nearly burns down her house. The nature of the attack suggests a Firestarter, but the real answer might not be that simple. Are The Charmed Ones about to face another threat from the past or is the culprit a more recent addition to their lives? A secret that Piper's been keeping might hold the answer to more than just Paige's question or it could lead to a whole new set of problems instead. Cole meets a Seer to help him find someone (while that someone does not want to be found)..
Characters
Edit
Returning
Edit
Non-Speaking
Edit
Introduced
Edit
Magical Notes
Edit
Powers Used
Edit
Artifacts
Edit
Notes and Trivia
Edit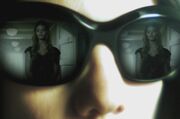 Sketches
Edit
Previews
Edit
Ad blocker interference detected!
Wikia is a free-to-use site that makes money from advertising. We have a modified experience for viewers using ad blockers

Wikia is not accessible if you've made further modifications. Remove the custom ad blocker rule(s) and the page will load as expected.