Weatherman
Physical description
Species
Gender

Male

Hair color

Black

Eye color

Brown

Skin color

White

Affiliation
Occupation

Weather reporter

Character information
Only appearance
Portrayed By
.
The Weatherman is a mortal who works for a news program in San Francisco.
History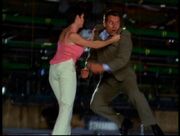 After the Cleaners had taken Wyatt Halliwell for being an exposure risk, the Charmed Ones decided to expose magic to get him back. The sisters orbed to the news studio and exposed magic on live television. Phoebe leviated the weatherman up in the air while Paige orbed a jacket off Kinesha Robinson in the middle of the studio. They then cut to Piper making the Golden Gate Bridge disappear. Their actions were later erased by the Cleaners after they made a deal to return Wyatt.

Appearances
The Weatherman appeared in a total of 1 episode over the course of the series.
Charmed

,

Season 6

#01
"Valhalley of the Dolls, Part 1"
#09
"Little Monsters"
#17
"Hyde School Reunion"
#02
"Valhalley of the Dolls, Part 2"
#10
"Chris-Crossed"
#18
"Spin City"
#03
"Forget Me...Not"
#11
"Witchstock"
#19
"Crimes and Witch-Demeanors"
#04
"The Power of Three Blondes"
#12
"Prince Charmed"
#20
"A Wrong Day's Journey Into Right"
#05
"Love's a Witch"
#13
"Used Karma"
#21
"Witch Wars"
#06
"My Three Witches"
#14
"The Legend of Sleepy Halliwell"
#22
"It's a Bad, Bad, Bad, Bad World, Part 1"
#07
"Soul Survivor"
#15
"I Dream of Phoebe"
#23
"It's a Bad, Bad, Bad, Bad World, Part 2"
#08
"Sword and the City"
#16
"The Courtship of Wyatt's Father"