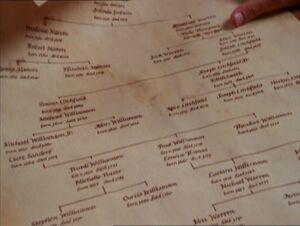 The Warren Family Tree is a parchment scroll, displaying all the Charmed Ones' ancestors, dating all the way back to Melinda Warren and ending with Prue, Piper and Phoebe Halliwell.
History
Phoebe Halliwell found the family tree in the attic after she was attacked by her past life P. Russell. After she used a spell to travel back to Russell's life, she discovered she was an evil witch and that she and her sisters were cousins. She found out that Russell died on the same day as they were on now.[1]
Leo and Piper had not chosen a name yet for Wyatt and looked at the family tree for inspiration. Paige walked in on them and discovered that there even was a tree, but was a bit sad when she saw that she wasn't added yet, a year and a half after she joined the family.[2]
Notes and Trivia
The family tree was presumably made by Penny Halliwell as the tree stops with Prue, Piper and Phoebe.
There is little room left to add anyone else.
The family tree was started with Melinda Warren.
Paige is not listed on the family tree.
Discontinuity
Gallery
References