Vassen
Biographical information
Died
Level
Physical description
Species
Gender

Male

Hair color

Blond

Skin color

White

Magical characteristics
Active powers
Inactive powers
Affiliation
Residence
Loyalty
Character information
Only appearance
Portrayed By
.
"Malvoc, that's suicide."
—Vassen to Malvoc about his plan to attack the sisters.
Vassen was an upper-level demon and a member of Malvoc's Clan, where he seemingly was his second-in-command. Their clan was the rival of another clan called the Sokols.
In order to permanently claim a territory in San Francisco, Malvoc and his clan killed several mortals in the shape of a pentagram. However, their last victim was saved by the Charmed Ones. In order to get their innocent back, Malvoc decided to frame his rivals the Sokols. He hoped that the sisters would vanquish his rivals and return the innocent, allowing them to kill him.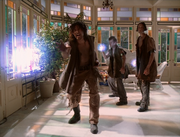 Malvoc and Vassen vanquished several Sokols to get their bracers and attacked the manor. During the attack, Malvoc threw one of the bracers toward Vassen, who was then vanquished by Leo with a lightning bolt.
When time was reversed, Leo knew what was going to happen and he and Piper vanquished Vassen and the others again. However, this time, he also vanquished Malvoc, thus destroying the entire clan.
Powers and Abilities
Edit
Active Powers
Other Powers
High Resistance: The ability to be highly resistant to physical and magical harm.
Appearances
Edit
Vassen appeared in a total of 1 episode over the course of the series.
Season 7
Ad blocker interference detected!
Wikia is a free-to-use site that makes money from advertising. We have a modified experience for viewers using ad blockers

Wikia is not accessible if you've made further modifications. Remove the custom ad blocker rule(s) and the page will load as expected.