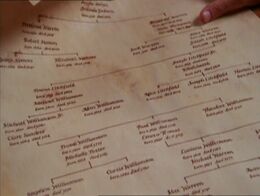 The Warren-Halliwell family is know for their tradition of choosing names that begin with the letter "P". However many characters were never named but fit into the "P" category, here is a list of used and unused "P" names.
Used
Unused
Female
Paula
Patsy
Pasley
Polly
Paris
Petra
Pegah
Peyton (alternate spelling: Payton)
Peggy
Pristine
Petunia
Patience
Pacifica
Paloma
Pilar
Pyhllis
Peri
Parker
Male
Preston
Pegasus
Paul
Patrick
Phillip
Parker
Pete
Peter
Potter
Pierre
Palmer
Ad blocker interference detected!
Wikia is a free-to-use site that makes money from advertising. We have a modified experience for viewers using ad blockers

Wikia is not accessible if you've made further modifications. Remove the custom ad blocker rule(s) and the page will load as expected.