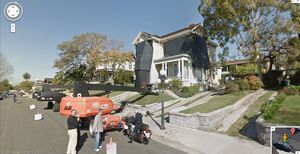 Okay, I got bored so I went on Google Maps and typed in the real address for the Manor. I wanted to get a look at around the area so I zoomed in and I entered this 3D perspective of Carroll Avenue. I found... a silver van and a man lugging somethings from the the side of the house. Could this be for another movie? I know these were taken recently because I did the 3D perspective of my house and my new car is out in the garage.
Could this be another movie? Something from Charmed?
Oh and I did a scan of the area and there are other trucks all around the surrounding area and the Gordon House is blacked over and looks like it is under construction.
Ad blocker interference detected!
Wikia is a free-to-use site that makes money from advertising. We have a modified experience for viewers using ad blockers

Wikia is not accessible if you've made further modifications. Remove the custom ad blocker rule(s) and the page will load as expected.