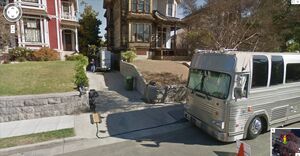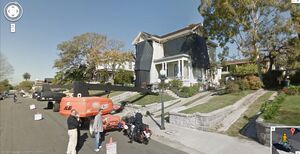 Okay, I got bored so I went on Google Maps and typed in the real address for the Manor. I wanted to get a look at around the area so I zoomed in and I entered this 3D perspective of Carroll Avenue. I found... a silver van and a man lugging somethings from the the side of the house. Could this be for another movie? I know these were taken recently because I did the 3D perspective of my house and my new car is out in the garage.
Could this be another movie? Something from Charmed?
Oh and I did a scan of the area and there are other trucks all around the surrounding area and the Gordon House is blacked over and looks like it is under construction.