Ad blocker interference detected!
Wikia is a free-to-use site that makes money from advertising. We have a modified experience for viewers using ad blockers

Wikia is not accessible if you've made further modifications. Remove the custom ad blocker rule(s) and the page will load as expected.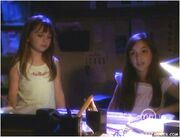 Am I the only one who doesn't think that both of the girls Phoebe saw in her dream in
The Jung and the Restless
were her daughters? Only one of them called her "Mom" (the girl on the left), the other one didn't. Unfortunately, we can't tell by the ending credits, because even though the girl who didn't call her "Mom" was credited only as
Little Journalist
and not 'Phoebe's daughter' (or something like that), the girl who called her "Mom" wasn't credited as 'Phoebe's daughter' either, she was credited as
Little Girl
.
The reason I'm asking is the Journalist doesn't look like either P.J. or Parker. And the fact she didn't call her "Mom" makes me wonder even more whether or not she was supposed to be P.J. or Parker.
And yes, I know that there were some recasting, Nicholas in 2x01 looked nothing like the one in 1x17, but after all, this was only a dream. Even though I don't believe it was supposed to be Phoebe's daughter, I could go with following theories:
It was her dream daughter, but not her real daughter, meaning no P.J. or Parker. (Just to make sure everybody understands this - if I had a dream that Phoebe is my mother, it does not make her my mother. She would be my dream mother, but not my real mother.)
Given that she looked nothing like P.J. or Parker, she might have been Phoebe's real third daughter.
She was neither Phoebe's dream or real daughter. (Just making sure you don't automatically tell me your opinion about the #1 and #2, ignoring what I wrote before. :-D)
So what are your opinions? But please, don't try to crucify me or something, I'm just writing about my opinion.
Also, one more question - are we sure that Parker in Forever Charmed was portrayed by the same actress that portrayed Phoebe's daughter in The Jung and the Restless? Phoebe's daughter didn't appear in the credits of 8x22, and I'm not sure by just looking at them. When I look at some pictures, they look the same, but then I look at other pictures and I think: 'They aren't the same girl, they are just very similar to each other.' I'm a little confused when it comes to this matter. :D Here are some pictures for you to decide more easily:
If it helps, try and google some pictures of Adair Tishler (Phoebe's daughter in 8x19).