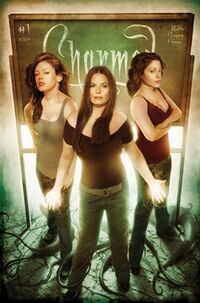 Many of the users on this wiki love the comics, others not as much. Either way, a lot of people have read them. Now that season 9 has ended, my question is, what kind of plot holes, loose ends, unresolved issues/storylines do you wish to be adressed in later issues?
The things I would like to know:
A little more background information on characters like Bailey and Glynnis.
An update on how Billie is doing and what she's up to these days.
What exactly happened between Patience and Charon and how Prue became involved?
What happened to Sarah, the witch "Patience" was helping in Salem?
Who and what is Montgomery Knox and what are his plans for his school?
What are things you would like to know?
Ad blocker interference detected!
Wikia is a free-to-use site that makes money from advertising. We have a modified experience for viewers using ad blockers

Wikia is not accessible if you've made further modifications. Remove the custom ad blocker rule(s) and the page will load as expected.