I got a copy of the Long Live The Queen script two months ago, and was shocked as ever to see the ending to the episode was completely changed.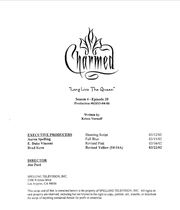 Heres the original script ending for Long Live The Queen that I got from my script: (I have a pd copy of it) So copied and pasted it. Do you think they should of kept this one in.
INT. MANOR - PHOEBE'S BEDROOM - DAY
Phoebe's sitting up in bed, arms around her folded legs, staring out the window. A box of kleenex is next to her surrounded by several crumpled, used tissues. A long beat then a soft KNOCK at the door.
PHOEBE
Yeah ... ?
The door opens and in walks Piper and Paige.
PIPER
We don't want to intrude ...
PHOEBE
No, it's okay, really. (takes tissue, wipes away a tear) Running out of tissue anyway.
PAIGE
(sits) It's gonna take time.
PHOEBE
I know ...
Phoebe looks at her sisters, with some combination of grief and shame.
PHOEBE (cont'd)
I'm so sorry.
PIPER
Phoebe, no. You don't have to--
PHOEBE
Please, just let me say this ...

Piper and Paige reluctantly fall quiet. Phoebe considers what she wants to say ...
PHOEBE (cont' d)
I guess Love is blind," doesn't quite . cut it ...
PAIGE
Works for me.
PHOEBE
I can't imagine what I put you through. I wish I had turned into a Fury or a Banshee or a Vampire so I'd have an excuse--
PAIGE
Phoebe, you're pregnant with ev--
PHOEBE
No, I could've fought that. I'm fighting it now ...just loved him. I loved him and I couldn't imagine life without him. And I'm so sorry.
PIPER
That's the last time you get to apologize.
Phoebe nods, trying to hold it together, but ultimately, she breaks into tears. Her sisters surround her with arms, pulling her into a hug.
PHOEBE
I miss him so much. I think I'll miss him for the rest of my life. But the one thing that Keeps me going is knowing that I'll always have a part of him with me.
Phoebe touches her belly. Piper and Paige exchange worried looks -- who's gonna say it?
PAIGE
Um, Phoebes--
PHOEBE
I know. · But he's still my baby ....
PAIGE
But isn't he-- I mean, isn't he ...
PIPER
Honey, isn't he demonic?
PHOEBE
Without the Seer's tonic to reinforce the evil, I chose good. So why can't my baby do the same?
PIPER
You're inherently good. You're the daughter of a good witch and a good man. But your baby-- he's the son of The Source. That's not so easy to overcome.
But on this point, Phoebe is unflinching.
PHOEBE
He's my son, Piper. And he may be part Source, but he's also part Cole. I have to believe there's a way to raise him good. (resolute) I need to believe that.
As Piper and Paige exchange looks, preparing themselves for' what they know will be an uphill battle, Phoebe looks back out the window, her hands on her belly, tears streaming down her face as we ...
FADE TO BLACK.
END OF EPISODE

I really loved this ending, I liked the original one, but I actually liked this ending better as originally written.
Ad blocker interference detected!
Wikia is a free-to-use site that makes money from advertising. We have a modified experience for viewers using ad blockers

Wikia is not accessible if you've made further modifications. Remove the custom ad blocker rule(s) and the page will load as expected.