The Underworld
Talk

13
4,178pages on
this wiki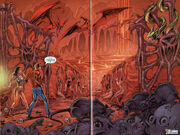 The Underworld is one of the several planes of existence. It is a place where evil beings, most notably demons live, but warlocks and darklighters also reside there. In the underworld demons and other evil beings practice their black magic to gain more power and ascend in the hierarchy. Most demons were born, hatched, or created here. This is also where the Underworld's most important residents, the Source of All Evil and the Triad, act as the rulers of the forces of darkness. Many would describe this region as hell for its deep underground chambers, caverns, lava pits, and volcanoes. The Underworld is a dark place due to the limited light which only comes from lit torches, fires, and even cracks in the walls.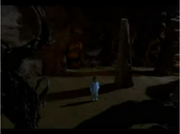 In the Underworld various sections have been carved out to serve as territory for the numerous demonic factions that inhabit it. This realm is a vast place, too vast for any good being not familiar with it, to travel through it accurately, without the help of a demon, like how Cole led the Charmed Ones and Leo around many times or how Gideon teamed up with Barbas in It's a Bad, Bad, Bad, Bad World, Part 2. Furthermore the nature of the Underworld itself causes the sensing and sometimes offensive powers of good beings to become more limited than they otherwise might be.
In the underworld mortal souls are trade, slave, tortured or even devourer by the creatures that live there, some for power and others for simply placer. A Demonic Hierarchy exist in the underworld, it's purpose is to maintain order and control over the many evil forces that exist there. Demons on the top, darlighters in the middle and warlocks at the bottom.
In the comics, there are unknown flying creatures in the Underworld.
You get cell phone coverage in the Underworld, as Phoebe was once called there.
Unlike this realm's counterpart, the Heavens, the Underworld is easily reached by beings of any alignment where as the other can only be accessed through orbing.
In many ocassions the underworld have been call hell and it truly looks like the classical representation of the biblical realm of evil.
Notable Inhabitants of the Underworld
Edit