Treasure Hunter
Biographical information
Died

1999; Tuatha's Tomb

Physical description
Species
Gender

Male

Hair color

Brown

Skin color

White

Character information
Only appearance
Portrayed By
.
Treasure Hunter and his friend Ryan found and accidentally freed the witch Tuatha from her tomb near San Francisco.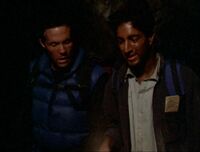 While hiking in the Muir Woods near San Francisco, these two treasure hunters found an abandoned mine. Inside, they found a skeleton and a number of symbols on a wall. While one of the hunters was worried, the other started digging and accidentally freed Tuatha from her tomb. The witch demanded her wand and then used her magical dust to shrink the hunters and feed them to her pet snake.
Appearances
Edit
Treasure Hunter appeared in a total of 1 episode over the course of the series.
Season 2
Ad blocker interference detected!
Wikia is a free-to-use site that makes money from advertising. We have a modified experience for viewers using ad blockers

Wikia is not accessible if you've made further modifications. Remove the custom ad blocker rule(s) and the page will load as expected.