To Increase Patience
Spell Information
Description

A ritual to increase patience

Creator(s)
Requirements

Several candles and a potion as decribed on the page

Alignment

Good Magic

.
To Increase Patience is a ritual written in Warren Book of Shadows. It is consists of an incantation and a potion that needs to be prepared, and is meant to increase patience in a person.
While looking at the page in the Book of Shadows, Piper Halliwell joked that her grandmother, Penny, probably wrote the spell. Phoebe then added that she must have used it a lot while she was raising them. However, Prue remarked that not all of them were troublemakers. [1]
Appendices
Edit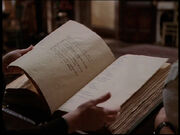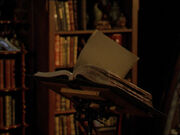 To Increase Patience
Edit
Set up the altar with
Three White Candles
Two Pink Candles
Two Orange Candles
and a Blue Candle
In the altar bowl place
A sprig of Lavender
Three Bay leaves
A pinch of Catnip
A large pinch of Yarrow
Three Drops of Gardenia Oil
And
A slip of paper with the event or,
name of the person with whom
Patience needs to be increased.
Light the candles,
with a Pink Candle
Light the herbs and paper
and as in burns, Chant three times
Burn, burn
All those thoughts that churn
That stop my love from becoming alive.
Then take the ash outside and scatter it to the night air
Saying
Go, dark thoughts
Scatter far and wide
Into the night
Be thou gone
So mote it be.
References
Edit
Ad blocker interference detected!
Wikia is a free-to-use site that makes money from advertising. We have a modified experience for viewers using ad blockers

Wikia is not accessible if you've made further modifications. Remove the custom ad blocker rule(s) and the page will load as expected.