Tall Man
Biographical information
Died
Physical description
Species
Gender

Male

Hair color

Gray

Eye color

Blue

Skin color

White

Magical characteristics
Active powers
Inactive powers
Character information
Only appearance
Portrayed By
.
The Tall Man was a powerful demon who was believed to be impossible to be vanquished. His body served as a dimensional portal. The Source of All Evil himself felt so threatened by him, that he ordered the Seer to forge a magical cage to imprison the Tall Man for all eternity. Due to him being imprisoned for centuries, his true name is unknown.
The Tall Man was freed by the Seer in 2002, but was later vanquished by Phoebe Halliwell, who used the tremendous power of her unborn child.
History
Imprisonment
Centuries ago, the Source of All Evil felt threatened by the Tall Man, but was unable to vanquish him. In order to secure his position as Ruler of the Underworld, he ordered The Seer to forge a cage powerful enough to hold the Tall Man for all eternity.[1]
Release from the Cage
The Seer freed the Tall Man after the Source was vanquished in order to obtain Phoebe's unborn child. The Tall Man then teleported to the manor to take Phoebe, but her unborn child took over her body and kicked Paige through the Tall Man, teleporting her to the cage instead. The Tall Man later tried to take Phoebe again, but she tapped into the power of her unborn child and vanquished him, which was believed to be impossible.[2]
Powers and Abilities
Active Powers
Other Powers
Book of Shadows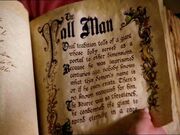 The Tall Man
Oral tradition tales of a giant
whose body served as a
portal to other dimensions.
Because he was imprisoned
centuries ago, nobody knows
what this demon's name is
or if he even exists. There's
no known vanquish for him.
The Source was so threatened,
he condemned the giant to
spend eternity in a cage.
Notes and Trivia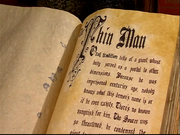 The alternate Book of Shadows page for the Tall Man is "The Thin Man", which could have been a reference to the film-noir of the same name.
The Tall Man didn't know who the Charmed Ones were, presumably due to his imprisonment.
Gallery
Appearances
The Tall Man appeared in a total of 1 episode through the course of the series.
Charmed

,

Season 4

#01
"Charmed Again, Part 1"
#09
"Muse to My Ears"
#17
"Saving Private Leo"
#02
"Charmed Again, Part 2"
#10
"A Paige from the Past"
#18
"Bite Me"
#03
"Hell Hath No Fury"
#11
"Trial by Magic"
#19
"We're Off to See the Wizard"
#04
"Enter the Demon"
#12
"Lost and Bound"
#20
"Long Live the Queen"
#05
"Size Matters"
#13
"Charmed and Dangerous"
#21
"Womb Raider"
#06
"A Knight to Remember"
#14
"The Three Faces of Phoebe"
#22
"Witch Way Now?"
#07
"Brain Drain"
#15
"Marry-Go-Round"
#08
"Black as Cole"
#16
"The Fifth Halliwheel"
References