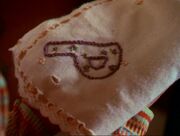 The Halliwell family is known for their tradition of choosing names that begin with the letter "P." The tradition was presumably started by the parents of the 1920s cousins (as all three of the cousins have names that start with 'P') and is currently being continued through the family line of Phoebe Halliwell.[1]
The Charmed Ones' Children
Edit
Piper Halliwell
Edit
When Piper gave birth to her first two children Wyatt and Chris, she broke the tradition choosing to name her children based on her husband Leo's family.
When Piper gave birth to Wyatt, the sisters and Leo tried to come up with "P" names suitable for the boy - a name suggested by Phoebe was "Potter" and Leo suggested "Peter," but Piper finally decided on "Wyatt," in honor of Leo.[2]
When Piper had her second son, he was named Christopher after Leo's father. She gave him the middle name "Perry" in honor of the "P" tradition. She named her third child Melinda after her ancestor.
Phoebe Halliwell
Edit
When Phoebe first envisioned her future daughter, she told Piper that she wished to carry on the "P" tradition so Piper suggested that she use their deceased older sister Prue's name in her honor. Thus, when Phoebe gave birth to her oldest daughter, she named her Prudence Johnna. She named her next daughter Parker, and will probably choose another 'P' name for her third daughter.
Paige Matthews
Edit
Paige Matthews also broke the tradition, naming her children Tamora, Kat, and Henry.[3]
Warren-Halliwell Family Names
Edit
References
Edit