Ad blocker interference detected!
Wikia is a free-to-use site that makes money from advertising. We have a modified experience for viewers using ad blockers

Wikia is not accessible if you've made further modifications. Remove the custom ad blocker rule(s) and the page will load as expected.
The Old Ones
Biographical information
Born

Ancient Times

Level
Physical description
Species
Magical characteristics
Inactive powers
Affiliation
Loyalty

Evil

Character information
First appearance
Last appearance
.
The Old Ones are a powerful race of demons older than words. They are described as the root of all fear and evil, but went extinct for some reason and no one had seen them for eons.
A demonic sorcerer named Aldar Kose sought to bring back the Old Ones in a ritual known as the Advent. He was able to manifest their souls in the form of seeds, which could hatch in the bodies of powerful witches. He first resurrected an Old One named Gaxageal in the body of a male witch.[2]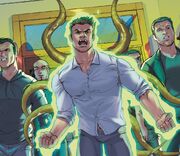 Gaxageal tried to devour the Power of Three so that his kind could rise again. He attacked the sisters over a period of several months before he was vanquished when they casted a Power of Three spell and Paige orbed out his heart.[3]
When a Will o' the Wisp possessed P.J. Halliwell, it warned Phoebe that the Old Ones were coming.[4]
After having disappeared for decades, Aldar Kose appeared before his former pupil Montgomery Knox and revealed his plans. He wanted to use the students at Knox Academy as vessels for the Old Ones. Wanting to protect his students, Knox worked with the Charmed Ones to stop his former mentor. When Aldar launched the seeds at the students, Knox jumped in the way and was hit instead, killing him. Later that night, Dominus, an Old One resurrected within Knox.[2]
When Prue Halliwell, Kyra and Benjamin Turner perform a ritual to find out why vanquished demons are returning, Prue learns that the Demonic Wasteland is actually the body of a deceased Old One named Heremus. Later, they find out that the vanquished evils are returning through Tyler Michaels, who had been infected with Heremus's blood. Prue astral projected into his body to battle the demon Heremus, only to become one with it and made her plant the Old Ones seeds on the students at Knox Academy. She later turned against her sisters and the rest of the magical community.[5][6][7][8][9][10]
Known Old Ones
Edit
Powers and Abilities
Edit
Active Powers
Other Powers
Book of Shadows
Edit
Old Ones Entry
Edit
"The darkness that lives beyond history can only be penetrated at its core."
Appearances
Edit
The Old Ones have appeared in a total of 7 comic issues over the course of the series.
Season 10
References
Edit