Ad blocker interference detected!
Wikia is a free-to-use site that makes money from advertising. We have a modified experience for viewers using ad blockers

Wikia is not accessible if you've made further modifications. Remove the custom ad blocker rule(s) and the page will load as expected.
The Legend of Sleepy Halliwell is the 14th episode of the sixth season and the 125th overall episode of Charmed.
For a complete plot of The Legend of Sleepy Halliwell, go

here

.
A Magic School mentor calls upon the Charmed Ones to find out who cast the spell of darkness upon the school and conjured up the Headless Horsemen who's been busy beheading the teachers!
Main Cast
Edit
Guest Stars
Edit
Special Musical Guest
Edit
Uncredited
Edit
Magical Notes
Edit
Power of Three, unite!
End this grisly fright,
Reverse the roles,
and make us whole!
Piper used an unknown spell to turn Slick into a toad temporarily. (off-screen)
Notes and Trivia
Edit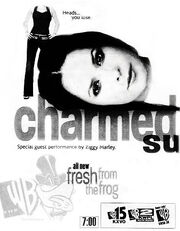 This is Gildart Jackson's first appearance as Gideon.
This is also the first appearance of Magic School.
When all the heads are put on something, an object is always there to hide the hole. Sigmund's head was on a table cloth, Piper's was on a cabinet with her body in it, and then Paige and hers were on books with Phoebe's on a map.
Kaley Cuoco, who portrays Billie Jenkins, starred in a movie about the Headless Horseman, which, ironically, was called "The Hollow", which is also a name of an ancient vapor on Charmed, seen in Season 4 and Season 8.
This episode shows the most people being orbed by just one person.
This is one of four episodes that has the word "Halliwell" in the title.
This episode scored 4.8 million viewers.
Piper is the first sister to be beheaded, conveniently hiding Holly Marie Combs's pregnancy for the majority of the episode.
Cultural References
Edit
The title of the episode is a reference to the story "The Legend of Sleepy Hollow" (1820).
The introduction of a Magic School is often attributed the popularity of Harry Potter, which is mostly set in a school for wizards and witches.
Zachary was able to tap into Piper's power and freeze the other students, although her power doesn't work on good witches.
While Piper's head is perched atop the cabinet, her hair moves into different positions: around her neck, off to the side and behind her head.
When the students are frozen, they're together; when Phoebe and Chris return to the Manor, Zachary is separated from the others and they are in different positions.
When the sisters' heads are on the table, you can clearly see the hole under Phoebe's head.
Episode Stills
Edit
Behind the Scenes
Edit
International Titles
Edit
French: Le cavalier sans tête (The Hourseman Without Head)
Finnish: Päätön ratsumies (The Headless Horseman)
Italian: Il mistero di Sleepy Halliwell (The Mistery of Sleepy Halliwell)
Czech: Události v Magické škole (Events in the Magic School)
Slovak: Legenda Sleepy Halliwellovej (The Legend of Sleepy Halliwell)
Russian: Легенда о спящей Холливелл [Legenda o spjaščej Hollivell] (The Legend of Sleepy Halliwell)
Spanish (Spain): La leyenda de la Halliwell durmiente (The Legend of the ~ Sleeper)
Spanish (Latin America): La leyenda del jinete sin cabeza (The Legend of Headless Horseman) (The Legend of the Rider Without Head)
Serbian: Legenda uspavanih Halivelovih
German: Die kopflosen Drei (The Headless Three)
Hungarian: A fejnélküli Halliwellek legendája (The Legend of Headless Halliwells)