The Four Sisters, Part 1 is the 14th issue of the Charmed Comcs: Season 10 published by Zenescope Entertainment.
For a complete plot of The Four Sisters, Part 1, go

here

.
With the temporary spell wearing out, the Charmed Ones race to find a way to protect their family from Prue's powers without killing her. As they prepare to do a dangerous spell, the shape-shifting Big Bad that has seized control of one of their own is setting its plan in motion.
Characters
Edit
Returning
Edit
Non-Speaking
Edit
Introduced
Edit
Mentioned
Edit
Magical Notes
Edit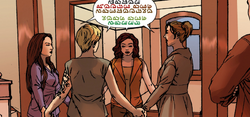 Powers of the witches rise,
Course unseen across the skies.
Come to us, who call you near.
Come to us and settle here.
Blood to blood, I summon thee.
Blood to blood, return to me.
Artifacts
Edit
Notes and Trivia
Edit
Ad blocker interference detected!
Wikia is a free-to-use site that makes money from advertising. We have a modified experience for viewers using ad blockers

Wikia is not accessible if you've made further modifications. Remove the custom ad blocker rule(s) and the page will load as expected.