The Four Sisters, Part 1 is the 14th issue of the Charmed Comics: Season 10 published by Zenescope Entertainment.
For a complete plot of The Four Sisters, Part 1, go

here

.
With the temporary spell wearing out, the Charmed Ones race to find a way to protect their family from Prue's powers without killing her. As they prepare to do a dangerous spell, the shape-shifting Big Bad that has seized control of one of their own is setting its plan in motion.
Characters
Edit
Returning
Edit
Non-Speaking
Edit
Introduced
Edit
Mentioned
Edit
Magical Notes
Edit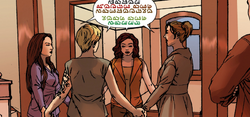 Artifacts
Edit
Notes and Trivia
Edit