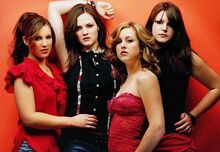 The Donnas is an all-female rock band that performed their song "Fall Behind Me" from their album "Gold Medal" at P3 in the Season 7 episode "Someone to Witch Over Me".
Brett Anderson - vocals, keyboard
Maya Ford - bass guitar, vocals
Allison Robertson - guitar, vocals
Torry Castellano - drums, percussion, vocals (no longer a member as of 2010)
Dave Whitman - Manager
Notes and Trivia
Edit
External Links
Edit
Ad blocker interference detected!
Wikia is a free-to-use site that makes money from advertising. We have a modified experience for viewers using ad blockers

Wikia is not accessible if you've made further modifications. Remove the custom ad blocker rule(s) and the page will load as expected.