The Crone
Biographical information
Died
Level
Physical description
Species
Gender

Female

Hair color

Grey

Eye color

Green

Skin color

White

Magical characteristics
Active powers
Inactive powers
Basic powers
Magic items
Affiliation
Occupation

Advising and guiding other evil

Residence
Character information
First appearance
Last appearance
Portrayed By
.
Parasite Demon: "Easy for you to say. You have powers of your own."
The Crone: "And I enjoy using them."
— The Crone shortly before vanquishing a Parasite Demon.
The Crone was a centuries old demonic Seer, representing and advising those in power both from the Demonic Market and the Underworld. She was a methodical and ruthless upper-level demon noted for her meticulous planning  to accomplish her goals.
Foreseeing the power and future of the Twice-Blessed Child, Wyatt, the Crone, like many other demons was intent on acquiring the infant's power. However, unlike most of the evil community, the Crone favored a more subtle strategy to steal the boy as opposed to all out attacks on the Charmed Ones which ended the lives so many other demons seeking Wyatt. So much so that in an attempt to gain at least some of the Charmed Ones' trust the Crone crafted a decree that no more demons were to attack the Twice-Blessed Child. Ultimately this action would be revealed to not be forged in good faith rather it ensured that no one else could claim the power she so coveted.
First Encounter with the Charmed Ones
Edit
Phoebe: "Who are you?"
The Crone: "I represent those in power. Rest assured a law will be passed forbidding any further attempts on your child"
Piper: "Why? What do you stand to gain?"
The Crone: "Nothing. You have proven that the costs of a war will far outweigh the benefits. Consider this our white flag. Now I suggest you rest well and preserve your energies. From what I've foreseen you're going to need them"
— The Charmed Ones consulting the Crone
After trying to kill Wyatt, the last one left of the parasite demons retreated to the Demonic Market. The Crone blamed them for the destruction the Charmed Ones had caused. She destroyed one of the parasites. The Charmed Ones run in just as she commits the act. The Crone then offers Wyatt's baby blanket as a "peace offering". She promised the sisters that no further attempts would be made on Wyatt's life. She adivsed them to rest and conserve their energy, as they would need it later as she had foreseen.
The Monkey Totem and Vanquish
Edit
The Crone: "I've seen everything. Such power. Such power!"
Piper: "You wanna see real power, lady?"
— Piper and the Crone, seconds before her vanquish
The Crone first posed a threat foreseeing baby
Wyatt growing
up to be an immensely powerful force of good. She went to extreme lengths to stop attacks on Wyatt so as to spare demonic lives, even passing a law against killing him, which would later be broken on several instances in the coming years, none ever once successfully killing him.
She later stole the Charmed Ones' senses: Paige's voice, Piper's eyesight, and Phoebe's hearing specifically. She accomplished this through the use of an artifact known as the Monkey Totem. The Crone also enlisted the help of the Kazi king and his warriors to distract the Charmed Ones, all in an attempt to touch Wyatt and use her power of premonition long enough to learn all she can about his future. She eventually accomplishes her goal, saying how powerful Wyatt is only to be vanquished seconds later.
Powers and Abilities
Edit
Basic Powers
Active Powers
Other Powers
Appendices
Edit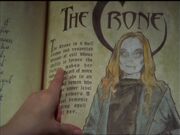 (Book of Shadows text:)
The Crone
Edit
The Crone is a well
known and respected
advisor of evil whose
ability to foresee the
future makes her
valuable. Heard of more
than seen, she is an
upper level demon who
possesses upper level
demonic powers. A
high level demonic
vanquishing spell
can kill her.
Notes and Trivia
Edit
Appearances
Edit
The Crone appeared in a total of 2 episodes throughout the course of the series.
Charmed

,

Season 5

#01
"A Witch's Tail, Part 1"
#09
"Sam, I Am"
#17
"Lucky Charmed"
#02
"A Witch's Tail, Part 2"
#10
"Y Tu Mummy Tambien"
#18
"Cat House"
#03
"Happily Ever After"
#11
"The Importance of Being Phoebe"
#19
"Nymphs Just Wanna Have Fun"
#04
"Siren Song"
#12
"Centennial Charmed"
#20
"Sense and Sense Ability"
#05
"Witches in Tights"
#13
"House Call"
#21
"Necromancing the Stone"
#06
"The Eyes Have It"
#14
"Sand Francisco Dreamin'"
#22
"Oh My Goddess! Part 1"
#07
"Sympathy for the Demon"
#15
"The Day the Magic Died"
#23
"Oh My Goddess! Part 2"
#08
"A Witch In Time"
#16
"Baby's First Demon"
Ad blocker interference detected!
Wikia is a free-to-use site that makes money from advertising. We have a modified experience for viewers using ad blockers

Wikia is not accessible if you've made further modifications. Remove the custom ad blocker rule(s) and the page will load as expected.