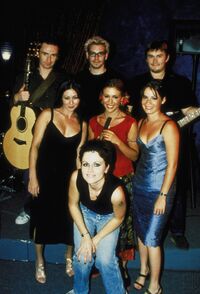 The Cranberries are an Irish rock band formed in 1989. The group was one of the most popular rock bands of the 90's and had a huge commercial success in the United States. They performed their song "Just My Imagination" at P3 in the Season 2 episode "She's a Man, Baby, a Man!".
A portion of "Animal Instinct" was played at the beginning of "Deja Vu All Over Again".
Dolores O'Riordan
Fergal Lawler
Noel Hogan
Mike Hogan
External Links
Edit
Ad blocker interference detected!
Wikia is a free-to-use site that makes money from advertising. We have a modified experience for viewers using ad blockers

Wikia is not accessible if you've made further modifications. Remove the custom ad blocker rule(s) and the page will load as expected.