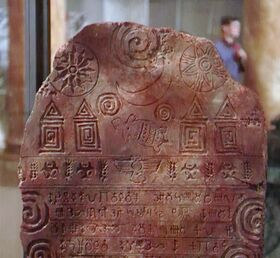 Part of a map tablet to the Akashic Records was kept at a historical and art museum in San Francisco. Eric Bragg, a mortal, spent days researching the lost language of the map listening to the scholarly museum tour guide, tell the story of the Akashic Records: "Legend holds that buried somewhere in the Iraqi desert is a fabled book penned by ancient mystics...it is believed to be a written account of all significant events throughout time."
Piper questioned what the Akashic Records were and Phoebe defined them as being a book of ancient prophecies with the future of the world down to the smallest detail. It had been hidden away for centuries. Before Ben Bragg, Eric's father, had his knowledge drained, he developed a theory that the latter half of the map was a transposition sequence. He was right; however, after the Collectors attacked, he was unable to complete it. His son cracked the code with his father's expertise.
Fearing what the Collectors or other evil could do with that kind of knowledge, Eric decided to destroy the map, preventing anyone from finding the Records. When the Collectors later erased his memories, and the warlock duo got vanquished themselves afterwards, the location of the Records was forever lost.