Tapeball is a ball of tape, the marks that the actors stand on so they know where to stand and where to go. It was created at the beginning of season 7 when Gary Boatner began collecting all the marks of the actors.
List of Marks
Everyone has a different color:
Stolen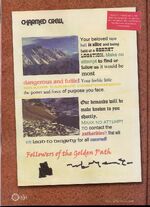 Right before Christmas, Tapeball was stolen. The crew got a note that said that "The followers of the Golden Path" had taken and hidden it.
Tapeball returns!
Six weeks later, the crew found the ball back on the bed of Piper. It was covered in shipping tape and had a note attached that said that Tapeball was a "devil ball" and that it gave them a hard time and they decided to give it back. Tapeball returned on the same day that Julian McMahon returned for the 150th episode of the show, coincidence?
Popular
Everyone on set loved Tapeball. Whenever a new guest star was on set they would be immediately drawn to him and wanted their pictures taken with him. Due to his overwhelming popularity, Gary Boatner decided that Tapeball was to be 'grown' for the entire season. They would then auction Tapeball off together with all autographed pictures. All proceeds would go to charity.
Also Tapeball is covered in autographs himself from Alyssa, Holly, Rose, and other actors from Charmed.
Notes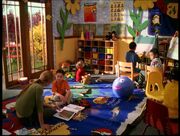 After the series ended, Tapeball was sold on eBay. A few months later, its buyer sold him again on eBay. The winning bidder of the tapeball left negative feedback after the sale stating the ball had been lost in transit.
Tapeball made a cameo-appearance in the season 7 episode Imaginary Fiends in Wyatt's preschool.
Appearances
Tapeball appeared in a total of 1 episode throughout the course of the series.
Season 7
DVD easter egg
Charmed Magazine