Susan Warner
Biographical information
Marital

Married to Richard Warner

Title(s)

Manager of SWA Properties

Physical description
Species
Gender

Female

Hair color

Blonde

Eye color

Brown

Skin color

White

Affiliation
Occupation

Real estate manager

Character information
Only appearance
Portrayed By
.
"Well, yeah. Um, which reminds me, there is one special task I'll need you to handle from time to time. If my husband calls, I'll need you to cover for me."
—Susan to Phoebe
Susan is the manager at SWA Properties, a real estate agency in San Francisco.
History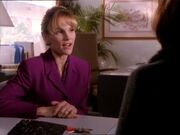 In 1999, Susan hired Phoebe Halliwell to work at the agency. Phoebe later discovered Susan was having an affair when she asked her to cover for her. However, when her husband showed up at the agency, a conflicted Phoebe decided she could not keep it a secret and told him. The husband then revealed he knew all about Susan's affair and thanked her for not lying to him; Phoebe then decided to quit.

Appearances
Susan Warner appeared in a total of 1 episode over the course of the series.
Charmed

,

Season 1

#01
"Something Wicca This Way Comes"
#09
"The Witch is Back"
#17
"That '70s Episode"
#02
"I've Got You Under My Skin"
#10
"Wicca Envy"
#18
"When Bad Warlocks Go Good"
#03
"Thank You For Not Morphing"
#11
"Feats of Clay"
#19
"Out of Sight"
#04
"Dead Man Dating"
#12
"The Wendigo"
#20
"The Power of Two"
#05
"Dream Sorcerer"
#13
"From Fear to Eternity"
#21
"Love Hurts"
#06
"The Wedding from Hell"
#14
"Secrets and Guys"
#22
"Déjà Vu All Over Again"
#07
"The Fourth Sister"
#15
"Is There a Woogy in the House?"
#08
"The Truth is Out There... and It Hurts"
#16
"Which Prue is It, Anyway?"