Sollal
Biographical information
Died
Level
Physical description
Species
Gender

Male

Hair color

Dark Blond

Eye color

Brown

Skin color

White

Magical characteristics
Active powers
Affiliation
Loyalty
Character information
Only appearance
Portrayed By
.
"Due to its intensity and the frequency of the emissions, I thought it was the Crystal of Kasimar, but it's more powerful than that. The Golden Belt of Gaea."
—Sollal discovering the awakening of Hippolyta's belt.
Sollal was a low-level demon who was the henchmen and counsel of Zira.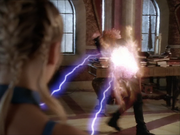 Sollal could sense the activation of the Golden Belt of Gaea, and realized what magical object after some research. Later, he showed a book about the belt to Zira. He was vanquished by Billie while she was wearing the Golden Belt of Gaea under the instruction of Zira, who no longer found him useful.
Powers and Abilities
Edit
Active Powers
Sensing: The ability to sense the location of other beings or artifacts. Sollal was able to sense the Golden Belt of Gaea was activated.
Appearances
Edit
Sollal appeared in a total of 1 episode throughout the course of the series.
Season 8
Ad blocker interference detected!
Wikia is a free-to-use site that makes money from advertising. We have a modified experience for viewers using ad blockers

Wikia is not accessible if you've made further modifications. Remove the custom ad blocker rule(s) and the page will load as expected.