Ad blocker interference detected!
Wikia is a free-to-use site that makes money from advertising. We have a modified experience for viewers using ad blockers

Wikia is not accessible if you've made further modifications. Remove the custom ad blocker rule(s) and the page will load as expected.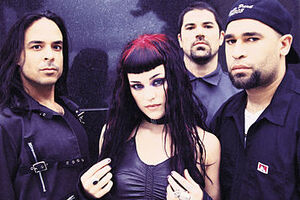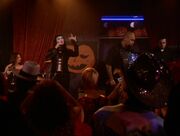 Snake River Conspiracy is an American alternative rock band from the San Francisco area, fronted by Martina Axén (of Drain STH). They gained popularity in the late 1990s and early 2000s. They performed their hit single "Breed" from their album "Sonic Jihad" in the Season 3 episode "All Halliwell's Eve". The band has since broken up and the members have gone their separate ways.
Martina Axén: Lead Vocals
Bobby Hewitt: Drummer (also member of another band that preformed at P3, Orgy)
Neil Taylor (original drummer)
Eric Hendrikx (guitarist)
Fab Fernandez (guitarist)
Tobey Torres (original lead singer)
Geoff Tyson (Original Lead Guitar for the Sonic Jihad Tour)
Ivo Ivanov (Original Keyboard Player for the Sonic Jihad Tour)
Scott Engelter (Scotty Sorry)
Jay Lane
Rob Patterson
Leo Larson
Discography
Edit
Vulcan (EP) 1999
Sonic Jihad (LP) 2000
Smells Like Teen Punk Meat (Single) 2001
External Links
Edit