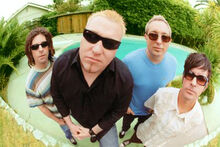 Smash Mouth is an American rock band that performed at the KQSF Beach Bash in the Season 6 premiere "Valhalley of the Dolls, Part 1". They are known for songs like "All Star", which appeared in "Shrek", and covers of songs such as "I'm a Believer" and "I Wan'na Be Like You". They are the only musical guest to not have performed at P3.
External Links
Edit
Ad blocker interference detected!
Wikia is a free-to-use site that makes money from advertising. We have a modified experience for viewers using ad blockers

Wikia is not accessible if you've made further modifications. Remove the custom ad blocker rule(s) and the page will load as expected.