Slappy
Biographical information
Alias

Chuckles

Physical description
Species

Paige's Dream Manifestation

Gender

Male

Magical characteristics
Inactive powers
Residence

Paige's dream

Character information
Only appearance
Portrayed By
.
"I got her number."
—Slappy
Slappy was a being manifested from Paige's dreams, based on her favorite clown puppet. Slappy is seen as a creepy toy that many people find unfit for a child.
History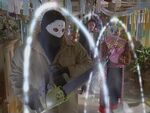 Slappy materialized when too much dream dust was knocked into the sisters and their dreams manifested in the real world. As a "human", Slappy was very humorous and playful. Of all three dream manifestations, he was the least threatening. Although he was part of Paige, he showed none of her personality traits and even mocked the baby shower set up she spent so much time working on. Slappy represented the fact that Paige never got a baby shower because her birth was kept a secret. He vanished from reality when Paige confronted her problems in her dreams.
Powers and Abilities
Other Powers
Life Link: The ability to share one's life with another. As Paige's dream manifestation, Slappy could not be harmed without harming herself in the process.
Notes and Trivia
Appearances
Slappy appeared in a total of 1 episode throughout the series.
Charmed

,

Season 5

#01
"A Witch's Tail, Part 1"
#09
"Sam, I Am"
#17
"Lucky Charmed"
#02
"A Witch's Tail, Part 2"
#10
"Y Tu Mummy Tambien"
#18
"Cat House"
#03
"Happily Ever After"
#11
"The Importance of Being Phoebe"
#19
"Nymphs Just Wanna Have Fun"
#04
"Siren Song"
#12
"Centennial Charmed"
#20
"Sense and Sense Ability"
#05
"Witches in Tights"
#13
"House Call"
#21
"Necromancing the Stone"
#06
"The Eyes Have It"
#14
"Sand Francisco Dreamin'"
#22
"Oh My Goddess! Part 1"
#07
"Sympathy for the Demon"
#15
"The Day the Magic Died"
#23
"Oh My Goddess! Part 2"
#08
"A Witch In Time"
#16
"Baby's First Demon"