Sid
Physical description
Species
Gender

Male

Magical characteristics
Active powers
Inactive powers
Affiliation
Occupation

Killing current and future Whitelighters

Residence
Loyalty
Character information
Only appearance
Portrayed By
.
Sid was a low-level Darklighter who worked for an upper-level Darklighter known as Salek.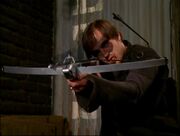 Sid was hired by Salek to track and eliminate a future Whitelighter named Mikelle. After a failed attempt to kill Mikelle due to the interference of Paige Matthews, Sid reported back to Salek, telling him a Charmed One retrieved the future Whitelighter, and suggested going after a new Whitelighter to be; Salek then told Sid he will go after Mikelle himself.
Powers and Abilities
Edit
Active Powers
Black Orbing: The ability to teleport through the use of black orbs.
Apportation: The ability to transport an object or person through planes from place to place.
Sensing: The ability to sense the location of other beings.
Other Powers
High Resistance: The ability to be highly resistant to other beings' powers and magic and survive otherwise lethal attacks.
Immortality: The ability to possess an inifinite lifespan and an arrested aging process.
Appearances
Edit
Sid appeared in a total of 1 episode throughout the course of the series.
Charmed

,

Season 8

#01
"Still Charmed & Kicking"
#09
"Hulkus Pocus"
#17
"Generation Hex"
#02
"Malice in Wonderland"
#10
"Vaya Con Leos"
#18
"The Torn Identity"
#03
"Run, Piper, Run"
#11
"Mr. & Mrs. Witch"
#19
"The Jung and the Restless"
#04
"Desperate Housewitches"
#12
"Payback's a Witch"
#20
"Gone with the Witches"
#05
"Rewitched"
#13
"Repo Manor"
#21
"Kill Billie: Vol. 2"
#06
"Kill Billie: Vol. 1"
#14
"12 Angry Zen"
#22
"Forever Charmed"
#07
"The Lost Picture Show"
#15
"The Last Temptation of Christy"
#08
"Battle of the Hexes"
#16
"Engaged and Confused"