Shimmering
Power Information
Effects

The ability to teleport in form of a shimmer

Trigger

Think of a place

Alignment

Neutral

Category

Teleportation Power

.
Shimmering is an energy-based method of teleportation that allows users to appear at and disappear from a desired location. When teleporting, the user shimmers, distorting the space around them for a moment. This is a common power among demons.
Shimmering allows demons to travel anywhere in the world, as well to different planes or timelines, such as time loops.[1] They can also shimmer with other beings as long as there is physical contact.
Demons can be vanquished while in mid-shimmer if one is fast enough; Phoebe Halliwell was once able to vanquish several demons this way while possessing demonic powers and Piper blew up Dumain as he tried to escape.[2]
List of Users
Demons
Witches
Notes and Trivia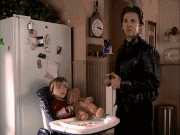 References
Ad blocker interference detected!
Wikia is a free-to-use site that makes money from advertising. We have a modified experience for viewers using ad blockers

Wikia is not accessible if you've made further modifications. Remove the custom ad blocker rule(s) and the page will load as expected.