Seedy Demon
Biographical information
Died
Physical description
Species
Hair color

Black

Eye color

Brown

Skin color

White

Affiliation
Residence
Loyalty

Evil

Character information
First appearance
Last appearance
Portrayed By
.
The Seedy Demon was a leader of a Demonic Faction once loyal to the Source of All Evil.
The Seedy Demon was present at a meeting of several demonic factions led by Cole Turner after he became the Source of All Evil. While discussing an innocent, he got into an argument with Malick over territory, until Cole pointed out that everything was his territory.[1]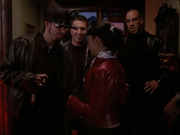 "Alright, the entertainment's here."
—the Seedy Demon to Phoebe.
After Cole Turner obtained the Halliwell Manor, the Seedy Demon was one of the many demons to arrive at the party. When Phoebe infiltrated the manor posing as Kaia, he and several other demons were happy the entertainment had arrived. However, Phoebe brushed them off, telling them she was there for Cole. He was vanquished along with everyone else when Phoebe banished the Shadow.[2]
Seedy has several definitions; shabby and worn, tired or sick, disreputable or squalid (dirty or morally repulsive).
Appearanes
Edit
The Seedy Demon appeared in a total of 2 episodes over the course of the series.
Season 4
Season 5
References
Edit
Ad blocker interference detected!
Wikia is a free-to-use site that makes money from advertising. We have a modified experience for viewers using ad blockers

Wikia is not accessible if you've made further modifications. Remove the custom ad blocker rule(s) and the page will load as expected.