Charmed Season 3
Broadcast
Original channel
The WB
Original run
September 5, 2000 –
May 17, 2001
Episodes
22 episodes
Premiere
The Honeymoon's Over
Finale
All Hell Breaks Loose
DVD release
Region 1
November 15, 2005
Region 2
October 3, 2005
Region 4
April 7, 2011
Season chronology
← Previous
Season 2
Next →
Season 4
The third season of Charmed began airing on October 5, 2000 on The WB. Airing on Thursdays at 9 P.M., the season consisted of 22 episodes and concluded its airing on May 17, 2001.
This is the last season to feature original cast member Shannen Doherty, as she left the series in the end of the season.
Charmed: The Complete Third Season was released in a six-disc box set on November 15, 2005 and later in a complete collection on November 18, 2008.
DVD summary
Edit
Three times is a charm! This season has three times the power, as well as all of the supernatural thrills and excitement, as the Charmed Ones -- Prue (Shannen Doherty), Piper (Holly Marie Combs) and Phoebe (Alyssa Milano) -- deal with being modern-day witches.
How could life get any more complicated for the Halliwell sisters? One learns that her greatest love is also her greatest enemy; another defies The Powers That Be to marry; and tragedy unexpectedly befalls the third, leaving the sisters powerless to stop it.
The perfect potion of suspense-filled adventure, crafty humor and dynamic heroines casts a spell that brings you 22 episodes of pure viewing magic.
Cast and characters
Edit
Main cast
Edit
Recurring cast
Edit
Notes and Trivia
Edit
The DVD box-set of this season was released on the fifteenth of November 2005 in region 1 (The U.S., Canada) and for all other regions in September or October. It was released in April and May (as two parts) in Japan. As with previous seasons it doesn't include any bonus features.
The DVD box-set for region 2 & 4 is different then the box-set for region 1. While the colors of the box-sets is the same (although the color is lighter in region 1), the pictures are not. Region 2 features different pictures of the three leads, their clothing photoshopped to be black. The pictures used on the front of region 1's set are on the back of region 2's and vice versa; so technically both sets use the same pictures, just in different places.
The region 2 box-set spoils the fact one of the sisters (Prue) dies and that they have a half-sister.
The opening credits feature new clips for the three main lead actresses. Brian Krause and Dorian Gregory's clips remain the same and have switched places. Julian McMahon is added as he joins the main cast in the season premiere as assistant D.A. Cole Turner.
This is the last season where the sister's powers are displayed before their name clips in the opening credits.
Prue is the only character who displays two powers in the opening credits.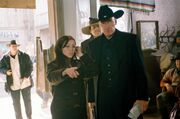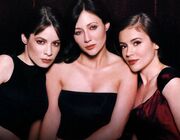 By the end of this season, all three sisters possess two powers. Phoebe gains Levitation in The Honey Moon's Over, Piper gains Molecular Combustion in Exit Strategy while Prue does not gain a new power, instead develops hand-to-hand fighting skills to go in hand with her magical powers.
The main three actresses, Shannen Doherty, Holly Marie Combs and Alyssa Milano, as well as Brian Krause appeared in every episode of the season. The rest of the male leads did not.
Shannen Doherty and Holly Marie Combs have stated during a panel at the 2013 Oz Comic-Con in Melbourne that they both consider season 3 to be the best season of the show.
Episode list
Edit
No in series
No in season
Title
Directed by
Written by
Original air date
Production code
45
1
"The Honeymoon's Over"
Jim Conway
Brad Kern
October 5, 2000
4300045
Prue and Phoebe set a killer free in order to protect their identities, then must fight a soul-stealing Guardian without Piper, who has disappeared with Leo.
46
2
"Magic Hour"
John Behring
Zack Estrin & Chris Levinson
October 12, 2000
4300046
Piper and Leo defiantly attempt to marry in spite of the wrath from The Powers That Be, as a demon infiltrates the three Charmed Ones.
47
3
"Once Upon a Time"
Joel J. Feigenbaum
Krista Vernoff
October 19, 2000
4300047
Piper goes on strike against The Powers That Be, so Prue and Phoebe must work alone to save a little girl protecting a fairy princess from trolls.
48
4
"All Halliwell's Eve"
Perry Lang
Sheryl J. Anderson
October 26, 2000
4300048
The Halliwell sisters travel back to the 1600s to protect a coven in danger of extinction and save their own future.
49
5
"Sight Unseen"
Perry Lang
William Schmidt
November 2, 2000
4300049
An invisible demon is sent be the Triad to destroy the sisters as Prue obsesses over a human stalker who seeks to kill her.
50
6
"Primrose Empath"
Mel Damski
Daniel Cerone
November 9, 2000
4300051
Piper and Phoebe race against time to save a cursed Prue, who has been tricked by Cole into helping a demon.
51
7
"Power Outage"
Craig Zisk
Monica Breen & Alison Schapker
November 16, 2000
4300050
Cole/Belthazor invokes an anger demon to pit the sisters against each other, rendering them powerless and vulnerable to attack.
52
8
"Sleuthing with the Enemy"
Noel Nosseck
Peter Hume
December 14, 2000
4300052
Prue and Piper team up with a bounty hunter demon to destroy Belthazor, but Phoebe has other plans for the man she loves.
53
9
"Coyote Piper"
Chris Long
Krista Vernoff
January 11, 2001
4300053
When a life essence takes possession of Piper, her soul is at risk of dying if Prue and Phoebe don't kill her body.
54
10
"We All Scream for Ice Cream"
Allan Kroeker
Chris Levinson & Zack Estrin
January 18, 2001
4300054
Phoebe and Prue battle to save innocent children from the force of The Nothing but must enlist the help of their father to do so.
55
11
"Blinded by the Whitelighter"
David Straiton
Nell Scovell
January 25, 2001
4300055
The Charmed Ones battle their most powerful opponent, an ancient warlock who threatens the existence of all Whitelighters.
56
12
"Wrestling with Demons"
Joel J. Feigenbaum
Sheryl J. Anderson
February 1, 2001
4300056
When Phoebe confesses that she let Cole escape, a betrayed Prue and Piper must put their feelings aside to stop Prue's old boyfriend from becoming a demon.
57
13
"Bride and Gloom"
Chris Long
William Schmidt
February 8, 2001
4300057
Phoebe turns to Cole for help when a demon tricks Prue into marriage so he can turn the sisters evil and get the Book of Shadows.
58
14
"The Good, the Bad and the Cursed"
Shannen Doherty
Monica Breen & Alison Schapker
February 15, 2001
4300058
Phoebe's visit to a ghost town becomes a nightmare, and when Leo can't help her, Prue and Cole must unravel the mystery to save her.
59
15
"Just Harried"
Mel Damski
Daniel Cerone
February 22, 2001
4300059
Piper begs for a demon-free wedding day, but her marriage to Leo is put on hold when Prue is accused of murder.
60
16
"Death Takes a Halliwell"
Jon Pare
Krista Vernoff
March 15, 2001
4300060
Prue faces the Angel of Death while two seeker demons kill everything in their way to find and kill Cole.
61
17
"Pre-Witched"
David Straiton
Chris Levinson & Zack Estrin
March 22, 2001
4300061
The Charmes Ones battle a warlock that gets stronger every time it is vanquished, as Piper wrestles with her decision to move out of the manor.
62
18
"Sin Francisco"
Joel J. Feigenbaum
Nell Scovell
April 19, 2001
4300062
When the sisters fight a demon cursing people with the seven deadly sins, they must first save themselves from succumbing to the powers of their own sins.
63
19
"The Demon Who Came in from the Cold"
Anson Williams
Sheryl J. Anderson
April 26, 2001
4300063
The sisters and Leo count on Cole to help them when he goes undercover in The Brotherhood of demons, but can he be trusted?
64
20
"Exit Strategy"
Joel J. Feigenbaum
Peter Hume & Daniel Cerone
May 3, 2001
4300064
When Cole is framed for the killing of a witch the sisters tried to protect, he finds it harder to contain his dark side, while Piper can no longer control her powers.
65
21
"Look Who's Barking"
John Behring
Teleplay by: Curtis Kheel & Monica Breen & Alison Schapker
Story by: Curtis Kheel
May 10, 2001
4300065
Prue becomes a dog to help track down a Banshee demon, but then the demon attacks Phoebe and Cole must save her.
66
22
"All Hell Breaks Loose"
Shannen Doherty
Brad Kern
May 17, 2001
4300066
When Piper and Prue are exposed as witches, Phoebe sacrifices herself to the dark side to save them but the deal destroys them all.
External links
Edit