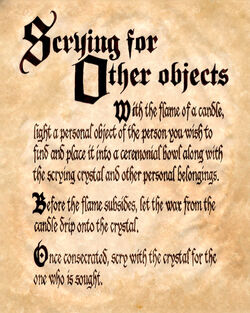 The Scrying For Other Objects entry was first mentioned in Season 4, "Witch Way Now?".
The Book of Shadows
Edit
Scrying for Other objects
With the flame of a candle,
light a personal object of the person you wish to
find and place it into a ceremonial bowl along with
the scrying crystal and other personal belongings.
Before the flame subsides, let the wax from the
candle drip onto the crystal.
Once consecrated, scry with the crystal for the
one who is sought.