San Francisco
City information
Relevance

Hometown of the Charmed Ones

Notable locations
Country

California, United States

.
San Francisco is a major port-city in the state of California, on the Western seaboard of the United States. It is the hometown of the Charmed Ones and as a result attracted many forms of evil.
Piper once joked regarding the number of warlocks that attack them, "What, are we like in the Warlocks Guide of San Francisco?".[1]
Another time, Phoebe asked Paige worriedly that it seemed like all of San Francisco was acting weird. Paige jokingly responded "Besides, everybody is odd in San Francisco, that's why we fit in so well!"[2]
Notable Locations
Edit
Notes and Trivia
Edit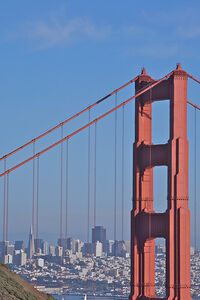 References
Edit
Ad blocker interference detected!
Wikia is a free-to-use site that makes money from advertising. We have a modified experience for viewers using ad blockers

Wikia is not accessible if you've made further modifications. Remove the custom ad blocker rule(s) and the page will load as expected.