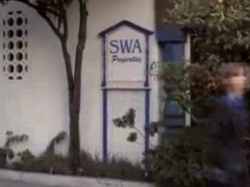 SWA Properties is a real-estate business in San Francisco, Phoebe Halliwell got a job there in the first season. The manager Susan asks Phoebe to watch the place and answer calls while she goes out with her boyfriend. Phoebe goes to show a "woman" named Mrs. Jofee a home, "Mrs. Jofee" turns out to be Barbas who attacks her and Prue after he is banished they leave. Phoebe later quits after she finds out that Susan is married to another man and can't lie to him to cover for her. SWA Properties is never seen again but it has been used to sell several buildings seen throughout the series.
Properties
Edit
SWA Properties' signs were seen when these properties were for sale:
The building which becomes P3
The estate where Barbas attacks the sisters.
The phone number of SWA Properties is 555-1212. In "how to make a quilt out of Americans"
there are SWA Properties posters listing their phone number as (415) 555-1620
Brad Kern had a cameo on the show as the salesman selling Dan's house.
Image Gallery
Edit