Run, Piper, Run is the 3rd episode of the eighth season and the 159th overall episode of Charmed.
For a complete plot of Run, Piper, Run, go

here

.
When Piper's adopted appearance as a woman wanted for murder gets her arrested, the sisters and Billie set out to clear the woman's name.
Main Cast
Edit
Guest Stars
Edit
Magical Notes
Edit
Book of Shadows
Edit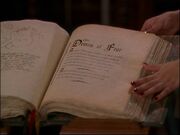 Also known as Barbas, appears on earth once every 1300 years on a Friday the 13th for twenty four hours.
His appearance is attributed to the universal convergence of negative energies as derived from astrological charts.
He derives his life force by feeding off the fears of witches. If he
can kill 13 unmarried female witches before the stroke of midnight on the 13th he will be able to break free from his eternal bonds and walk the earth for eternity. A witch's only defense is to identify and then release her greatest fears. Do not rely on your wicca powers for defense, for in the face of your greatest fear, those powers are paralyzed.
Ex Libris EntryEdit
Billie read an entry, written by the sisters, which talks about the events from Ex Libris. It says that they used a ghost to scare someone into confessing a murder.
The sisters and Billie cast a spell (offscreen) to show Nance's biggest fear; him aging.
Paige makes a Scrying Potion, including the photo of Maya Holmes from 415 magazine.
Artifacts
Edit
Book of Shadows - The Halliwell Family's magical tome. In addition to spells and potion recipes, The Book of Shadows contains information on warlocks, demons, and other supernatural beings. It was created by their ancestor, Melinda Warren, and was passed down every generation.
Notes and Trivia
Edit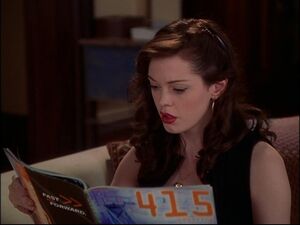 Cultural References
Edit
The title is likely a reference to the movie "Run, Lola, Run" , the famous phrase "Run, Forrest, run" from the movie "Forest Gump" or the song title "Run, Joey, Run".
Piper, Paige and Leo talk about "All About Eve", one of them says it's a movie.
When Piper hits her frozen cellmate, cancelling the freeze, the sound effect isn't heard.
Episode Stills
Edit
Behind the Scenes
Edit
International Titles
Edit
French: Au-delà des apparences (Beyond Appearances)
Slovak: Piper beží o život (Piper Runs for Her Life)
Russian: Беги, Пайпер, беги! [Begi, Pajper, begi!] (Run, Piper, Run!)
Spanish (Spain and Latin America): Corre, Piper, corre (Run, Piper, Run)
Czech: Piper na útěku (Piper On The Run)
Italian: Corri, Piper, corri! (Run, Piper, Run!)
German: Lauf Piper, lauf (Run Piper, Run)
Serbian: Beži Pajper, beži (Run Piper, Run)
Ad blocker interference detected!
Wikia is a free-to-use site that makes money from advertising. We have a modified experience for viewers using ad blockers

Wikia is not accessible if you've made further modifications. Remove the custom ad blocker rule(s) and the page will load as expected.