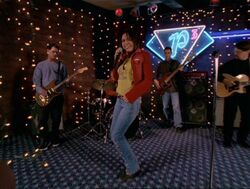 Rebekah Ryan is an English Singer/Songwriter and Actress from the UK. She performed her song 'Big Trouble Lots Of Fun' from the same titled Album at P3 in the Season 4 episode "The Fifth Halliwheel". She was signed to MCA Records in 1996 and then Jive Records in 2000. She was due to release her Soul/Motown influenced second Album entitled 360 later in 2015.
External Links
Edit
Ad blocker interference detected!
Wikia is a free-to-use site that makes money from advertising. We have a modified experience for viewers using ad blockers

Wikia is not accessible if you've made further modifications. Remove the custom ad blocker rule(s) and the page will load as expected.