Rake
Biographical information
Died
Physical description
Species
Gender

Male

Affiliation
Residence
Loyalty

Evil

Character information
Only appearance
Portrayed By
.
" Belthazor, sorry man, thought you were a warlock. Didn't I hear you were dead?"
—Rake to his old friend.
Rake was a demon who used to be a close friend to Belthazor.
History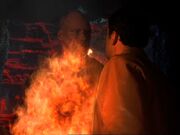 When Cole Turner and Leo Wyatt infiltrated The Underworld to spy, they ran into Rake in the tunnels. Rake questioned Cole, still believing he was vanquished. Cole then stabbed him with an athame, as he did not want his secret to come out.

Appearances
Rake appeared in a total of 1 episode over the course of the series.
Charmed

,

Season 4

#01
"Charmed Again, Part 1"
#09
"Muse to My Ears"
#17
"Saving Private Leo"
#02
"Charmed Again, Part 2"
#10
"A Paige from the Past"
#18
"Bite Me"
#03
"Hell Hath No Fury"
#11
"Trial by Magic"
#19
"We're Off to See the Wizard"
#04
"Enter the Demon"
#12
"Lost and Bound"
#20
"Long Live the Queen"
#05
"Size Matters"
#13
"Charmed and Dangerous"
#21
"Womb Raider"
#06
"A Knight to Remember"
#14
"The Three Faces of Phoebe"
#22
"Witch Way Now?"
#07
"Brain Drain"
#15
"Marry-Go-Round"
#08
"Black as Cole"
#16
"The Fifth Halliwheel"