Rake
Biographical information
Died
Physical description
Species
Gender

Male

Affiliation
Residence
Loyalty

Evil

Character information
Only appearance
Portrayed By
.
Rake was a demon who used to be a close friend to Belthazor.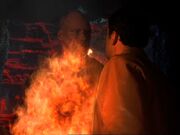 When Cole Turner and Leo Wyatt infiltrated The Underworld to spy, they ran into Rake in the tunnels. Rake questioned Cole, still believing he was vanquished. Cole then stabbed him with an athame, as he did not want his secret to come out.
Appearances
Edit
Rake appeared in a total of 1 episode over the course of the series.
Season 4
Ad blocker interference detected!
Wikia is a free-to-use site that makes money from advertising. We have a modified experience for viewers using ad blockers

Wikia is not accessible if you've made further modifications. Remove the custom ad blocker rule(s) and the page will load as expected.