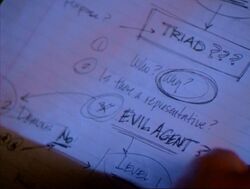 In 2001, after the Halliwell sisters returned from the 17th century[1], Abbey, a manager at P3 began stalking Prue Halliwell. After returning from studying Micah's - a man who saved the sisters while in the past - family's history, Abbey attacked Prue at the manor. Prue then compiled notes about possible evils who were responsible for the plethora of demonic attacks that have been occurring in the recent months and who could be responsible for breaking into the manor and attacking her.[2]
Evil Agent
Edit
The notes contained her belief that there was an Evil Agent sent after them by the Triad, whose purpose she questioned, a list of different levels of demons and warlocks also appeared on the list, such as Javna, Litvack, Grimlocks, etc.
Prime Suspect: Cole Turner
Edit
Being very suspicious of Cole Turner, she wrote on the collection of information how she thought he could be the evil agent working for the Triad who is after them, watching them.
After creating a Crystal Cage and attempting to learn information about the attacker from the demon Troxa, he told the sisters that a demon known as Belthazor has been sent to surveil and attack them. After which, Phoebe questions Cole's name being on the list, Prue then crosses it out.
References
Edit
Ad blocker interference detected!
Wikia is a free-to-use site that makes money from advertising. We have a modified experience for viewers using ad blockers

Wikia is not accessible if you've made further modifications. Remove the custom ad blocker rule(s) and the page will load as expected.