Prescott Street
Talk

0
4,179pages on
this wiki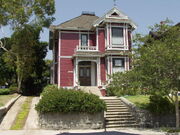 The Manor is situated on Prescott Street, San Francisco, California. The Manor and The Nexus have been situated there for generations. Prue Halliwell and Andy Trudeau died on Prescott Street. At the beginning of the series, most precisely in The Fourth Sister, it was said that the address of Halliwell Manor was 7571 Prescott Street, but later on, as from From Fear to Eternity, it was established that the address of the Manor was 1329 Prescott Street till the end of the series.
In the early 20th century, the city of San Francisco suffered a terrible earthquake that destroyed most of the city, including this street. The Halliwell family of witches came and bought the place where currentely resides the Halliwell Manor, due to being a center of supernatural power. [1]
In the 70's, Andy Trudeau and his family resided close to Prescott Street but later moved to Portland. Across the street from Halliwell Manor, there is a blue house that the shapeshifters, Marshall, Fritz and Cynda occupied in the episode Thank You For Not Morphing in the first season. To the right of Halliwell Manor is the house that Dan Gordon and his niece, Jenny Gordon, occupied in the second season and Mrs. Noble in the sixth season. [2]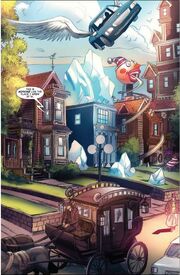 At some point, the Stillman Sisters occupied a house across the street (The same house the Shapeshifters took over) from Halliwell Manor after having killed the previous inhabitants. [3] It is later revealed that Denise, one of the two people who received Piper's powers in the seventh season, is a long time neighbour of the Halliwells and always mistook the supernatural occurences at the house for wild parties. [4]
When magic switches sides, the residents use their new powers to redecorate their houses into literally a magical circus. Having lost their witchcraft, the Charmed Ones make the relatives and friends that gained magic to redecorate their house as to hide the fact that don't have magic. [5]
Notable Residents and Visitors
Edit
"Prescott Street" on Google Maps
Edit
The actual location of the houses of Prescott Street are located on Carroll Avenue which is found in Los Angeles. For Google Maps and Streetview click here.
References
Edit