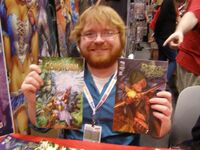 Patrick "Pat" Shand is an American author who has written, created and edited various comic books, plays and stories. He has worked on the Angel comic books and several releases for Zenescope Entertainment including: Grimm Fairy Tales, Robyn Hood, Godstorm, Unleashed, Thomasina's Human Zoo and Suckers. He was later hired to write Season 10 of the Charmed comics.
External Links
Edit
Ad blocker interference detected!
Wikia is a free-to-use site that makes money from advertising. We have a modified experience for viewers using ad blockers

Wikia is not accessible if you've made further modifications. Remove the custom ad blocker rule(s) and the page will load as expected.