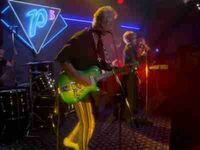 Pat Benatar (January 10, 1953) is an American rock singer and four-time Grammy winner. Neil Giraldo (December 29, 1955) is her husband and lead guitarist of her band. Together, they have two daughters. They performed at P3 in the Season 5 episode "Lucky Charmed".
History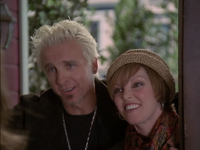 When Piper Halliwell had some trouble with her club P3, she was granted some luck by a Leprechaun. A moment later, Pat and Neil rang the doorbell of the manor after their car broke down. They asked if they could use the phone and later performed at the club.
Gallery
Notes and Trivia
While at the manor, Neil greeted the leprechaun, Seamus Fitzpatrick, saying it was a long time since they last saw each other.
External Links