Owen Grant
Biographical information
Died
Physical description
Species
Gender

Male

Hair color

Blonde

Eye color

Brown

Affiliation
Occupation

Doctor

Character information
Only appearance
Portrayed By
.
"Do you, huh, do you wanna get out of here and take a walk or something?"
—Owen to Phoebe at the mixer.
Owen Grant was a mortal doctor and a brief love interest of Phoebe Halliwell. As a member of a dating service Fine Romance, he was targeted by a Succubus. Years later, he was one of the many innocents murdered by Neena's followers in order to resurrect the Source of All Evil.
History
Targeted by the Succubus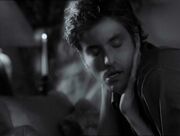 In 1999, Owen ran into Phoebe as he was signing up for the dating service Fine Romance. When they shook hands, Phoebe had a premonition of Owen being attacked by the Succubus. Later at the mixer at P3, Phoebe experienced what the Succubus was feeling through a psychic link and saw that she was after Owen. Phoebe warned Prue, who had been transformed into a man through a spell, and Prue punched Owen. Due to the fight, Darryl Morris arrested them both, which was part of the plan to keep Owen safe. After Prue was released, the sisters vanquished the Succubus and Owen was released. He and Phoebe later had a date during The Cranberries concert.
Death
In 2008, Owen was murdered along with several other innocents by Neena's followers as part of a ritual to resurrect the Source of All Evil.[1] The sisters later avenged him by vanquishing the Source yet again and defeating Neena.
Appearances
Owen Grant appeared in a total of 1 episode throughout the course of the series.
Charmed

,

Season 2

#01
"Witch Trial"
#09
"Ms. Hellfire"
#17
"How to Make a Quilt Out of Americans"
#02
"Morality Bites"
#10
"Heartbreak City"
#18
"Chick Flick"
#03
"The Painted World"
#11
"Reckless Abandon"
#19
"Ex Libris"
#04
"The Devil's Music"
#12
"Awakened"
#20
"Astral Monkey"
#05
"She's a Man, Baby, a Man!"
#13
"Animal Pragmatism"
#21
"Apocalypse, Not"
#06
"That Old Black Magic"
#14
"Pardon My Past"
#22
"Be Careful What You Witch For"
#07
"They're Everywhere"
#15
"Give Me a Sign"
#08
"P3 H2O"
#16
"Murphy's Luck"
References