Oh, Henry is the 8th issue of the Charmed comic series published by Zenescope Entertainment.
Summary
For a complete plot of Oh, Henry, go

here

.
Rennek the Darklighter is still on his Whitelighter-killing spree in order to collect their abilities when a seemingly homeless innocent teen in San Francisco falls victim to a stray arrow. The pregnant teen is dead, but Paige manages to save the girl's baby by orbing the child out of the body immediately. Neena finally reveals herself to the Charmed Ones while taking on an Elder directly on the Golden Gate Bridge. During the battle, Neena sends Piper into the dimension that she sent the Angel of Destiny into in Charmed Lives. Phoebe and Paige want to stay to fight the stranger and rescue their sister, but Leo forces them to flee.
Characters
Main
Returning
Non-Speaking
Introduced
Mentioned
Magical Notes
Powers
Notes and Trivia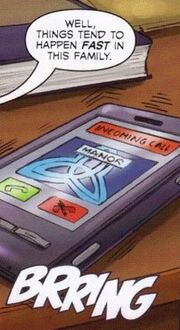 Gallery
Covers
Previews
Try Out Pages
External Links
Reviews