Frank York
Physical description
Species
Gender

Male

Hair color
Eye color

Brown

Skin color

White

Character information
Only appearance
Portrayed By
.
"What, is this some kind of joke?"
—Mr. York to Cryto.
Frank York was a mortal who was magically rejuvenated by Cryto in exchange for his soul.
History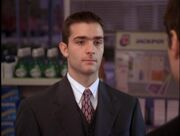 After Gail Altman and her friends Amanda and Helen summoned Cryto, he rejuvenated Gail and killed the others. Cryto then took the young Gail into town, where he offered youth to several other people. Frank initially believed it to be a joke, until Gail revealed it was really her. Frank then agreed and was turned into a young man again. Following Cryto's banishment, he was returned to his true age.
Notes and Trivia
He was credited as Mr. York, though Gail called him Frank.
Appearances
Mr. York appeared in a total of 1 episode throughout the course of the series.
Charmed

,

Season 2

#01
"Witch Trial"
#09
"Ms. Hellfire"
#17
"How to Make a Quilt Out of Americans"
#02
"Morality Bites"
#10
"Heartbreak City"
#18
"Chick Flick"
#03
"The Painted World"
#11
"Reckless Abandon"
#19
"Ex Libris"
#04
"The Devil's Music"
#12
"Awakened"
#20
"Astral Monkey"
#05
"She's a Man, Baby, a Man!"
#13
"Animal Pragmatism"
#21
"Apocalypse, Not"
#06
"That Old Black Magic"
#14
"Pardon My Past"
#22
"Be Careful What You Witch For"
#07
"They're Everywhere"
#15
"Give Me a Sign"
#08
"P3 H2O"
#16
"Murphy's Luck"