Mr. Monkeyshines
Biographical information
Died
Physical description
Species
Gender

Male

Hair color

Brown-Grey

Eye color

Green

Skin color

White

Magical characteristics
Active powers
Affiliation
Occupation

Literature Professor at Magic School

Character information
Only appearance
Portrayed By
.
Mr. Monkeyshines
was a
Gnome
and the Literature Professor at
Magic School
. He was murdered in the novel
Crossed, Double-Crossed
after accidentally being sucked in it.
During the time Paige was the headmistress of Magic School, Mr. Monkeyshines got into an argument with the librarian Miss Donovan when he wanted to ban several fantasy books for petty reasons. Paige broke up their argument and discovered that the Gnome had not even bothered to read the books before requesting their ban. She scolded him and told him to read the books first.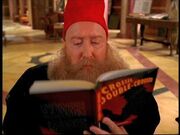 After Paige and Miss Donovan left, Mr. Monkeyshines reluctantly picked up
Crossed, Double-Crossed
and started to read it. However, he was accidentally sucked into the book and became part of the story. He was later shot and expelled from the book, which was when Miss Donovan found his body and screamed.
In order to solve the murder mystery, Paige called in Kyle Brody. He cleared Miss Donovan by examining her hands for gunpowder. He and Paige then went to look at the body and found the book had been moved. Kyle then opened the book and they were sucked in as well.
Powers and Abilities
Edit
Active Powers
Sense Stealing: The ability to steal the five senses of other beings and use them for oneself. Mr. Monkeyshines used this ability to remove the mouth of Miss Donovan during their argument.
The position of Literature Professor was later filled by Drake dè Mon and later by Miss Donovan.
Mr. Monkeyshines attempt to have the following books banned;
Appearances
Edit
Mr. Monkeyshines has appeared in a total of 1 episode throughout the course of the series.
Charmed

,

Season 7

#01
"A Call to Arms"
#09
"There's Something About Leo"
#17
"Scry Hard"
#02
"The Bare Witch Project"
#10
"Witchness Protection"
#18
"Little Box of Horrors"
#03
"Cheaper by the Coven"
#11
"Ordinary Witches"
#19
"Freaky Phoebe"
#04
"Charrrmed!"
#12
"Extreme Makeover: World Edition"
#20
"Imaginary Fiends"
#05
"Styx Feet Under"
#13
"Charmageddon"
#21
"Death Becomes Them"
#06
"Once in a Blue Moon"
#14
"Carpe Demon"
#22
"Something Wicca This Way Goes...?"
#07
"Someone to Witch Over Me"
#15
"Show Ghouls"
#08
"Charmed Noir"
#16
"The Seven Year Witch"