Michelle Branch is a Grammy-winning American singer-songwriter, guitarist and actress who became widely known with her single "Everywhere" in 2001. She also was one half of the musical duo the Wreckers from 2005 until 2007. She performed her song "Goodbye to You" at P3 in the Season 5 episode "Centennial Charmed".
Broken Bracelet (2000)
The Spirit Room (2001)
Hotel Paper (2003)
West Coast Time (2012)
Notes and Trivia
Edit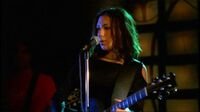 Her song "Goodbye to You" seemingly served as a farewell to Julian McMahon, as "Centennial Charmed" was his last episode as a main cast member.
Coincidentally, Michelle also performed on Buffy the Vampire Slayer in the episode "Tabula Rasa" in 2001. Here, she also sang "Goodbye to You", which was symbolic for Tara leaving Willow.
External Links
Edit
Ad blocker interference detected!
Wikia is a free-to-use site that makes money from advertising. We have a modified experience for viewers using ad blockers

Wikia is not accessible if you've made further modifications. Remove the custom ad blocker rule(s) and the page will load as expected.