Michael Bailey Smith
Actor Information
Name

Michael Bailey Smith

Birthplace

Alpena, Michigan, USA

Birth date

November 2, 1957

Portrayed
Season
Episode(s)
.
Michael Bailey Smith is an American actor who portrayed the roles of various demons throughout season 3 and season 4. He portrayed Belthazor, Shax and the Source of All Evil. He also portrayed two grimlocks, Janor in "All Halliwell's Eve" and the Grimlock Leader in "Bite Me".
Biography
Edit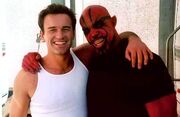 Michael Bailey Smith was born on November 2nd, 1957 in Alpena, Michigan, USA. He grew up traveling the world and attended college at Eastern Michigan University, where his athletic talents earned him a spot as a free agent with the Dallas Cowboys.
After a career-ending knee injury, he moved to San Diego and became a competitive bodybuilder. Michael stumbled upon acting when he accompanied a friend to an audition for A Nightmare on Elm Street: The Dream Child (1989) (which also starred Marnette Patterson). The "acting bug" bit Michael, and he hasn't stopped since. He is currently married to Lisa Smith and has two sons (Bailey Austin Smith, born in 1997 and Hunter Hal Smith, born in 2002).
Smith has also maintained a career outside of acting; he currently works for Osram Sylvania as a business development manager.
Blood Shot (2009)
Chain Letter (2008)
Corrado (2008)
Jonathon Moon: Alien Attack! (2008)
Thirsty (2008)
My Name Is Earl (2006-2007)
Careless (2007)
The Hills Have Eyes II (2007)
Pepper Dennis (2006)
The Hills Have Eyes (2006)
Spymate (2006)
Desperate Housewives (2005)
Jane Doe: The Wrong Face (2005)
The Unknown (2005)
Candy Paint (2005)
The O.C.(2005)
Charmed (2000-2002)
Buffy the Vampire Slayer (2000)
Notes and Trivia
Edit
External links
Edit
Ad blocker interference detected!
Wikia is a free-to-use site that makes money from advertising. We have a modified experience for viewers using ad blockers

Wikia is not accessible if you've made further modifications. Remove the custom ad blocker rule(s) and the page will load as expected.