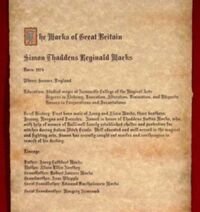 The Marks Line of Witches are very noble, very powerful witches from Great Britain. They are descendants of the Mighty Marks. Thaddeus Sutton Marks established shelter and protection for witches during Salem Witch trials with help of the Warren line of witches.
Simon Marks, a member of the Marks Line of Witches, sought out Paige Matthews to propose marriage, as their union had been predicted by forty different soothsayers and oracles and a wizard or two. However, Paige was already in love with Henry Mitchell and rejected his proposal.[1]
Simon is a Whitelighter-Witch similar to Paige, indicating that, at some point in time, Whitelighter blood entered the bloodline. Simon, and presumably the rest of the Marks line, attended the Newcastle College of the Magical Arts.
Ancestor
First Generation

Edward Bartholomew Marks and Margery Newcomb

Second Generation

Robert Avery Marks and Anne Whipple

Third Generation

Avery Cuthbert Marks and Alicia Ellen Neethey

Fourth Generation

Jeremy Marks
Morgan Marks
Forrester Marks
References
Edit
Ad blocker interference detected!
Wikia is a free-to-use site that makes money from advertising. We have a modified experience for viewers using ad blockers

Wikia is not accessible if you've made further modifications. Remove the custom ad blocker rule(s) and the page will load as expected.