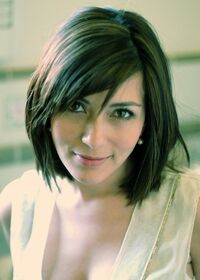 Marisol Nichols played Bianca in the season 6 episode "Chris-Crossed."
Biography
Edit
She is of Mexican descent, and speaks conversational Italian. An avid humanitarian and activist, she is a volunteer supervisor and spokeswoman for Criminon, dedicated to the rehabilitation of prison immates, and a spokeswoman for the Citizens Commission on Human Rights. She also volunteers her time to Youth for Human Rights and The Earth Organization. She is the oldest of three and has two younger brothers.
Big Momma's House 2 (2006)
Homeland Security (2004)
The Road Home (2003)
Bowfinger (1999)
Can't Hardly Wait (1998)
Scream 2 (1997)
Vegas Vacation (1997)
24 (2007)
In Justice (2006)
Blind Justice (2005)
Charmed (2003)
Nip/Tuck (2003)
Law and Order: Special Victims Unit (2003)
CSI: Crime Scene Investigation (2003)
Friends (2003)
Alias (2002)
ER (1997) * The Gates (2010)
External links
Edit
Ad blocker interference detected!
Wikia is a free-to-use site that makes money from advertising. We have a modified experience for viewers using ad blockers

Wikia is not accessible if you've made further modifications. Remove the custom ad blocker rule(s) and the page will load as expected.